Posted by: MsXeRoZ Nicole
April 24th, 2014 >> Posts
A very good morning every one! Gosh, it's 12.10am and I had just took my bath, after returning home from a movie date with
Nuffnang
. So, I am waiting for my hair to dry, that's why I turned on my laptop and start typing. This will be a review written in memory of my beloved idol,
Paul Walker.
[Synopsis]
Brick Mansions is a remake (American version) of District 13. Brick Mansions is an area surrounded by brick walls as it was deemed a very dangerous neighbourhood. The residents of Brick Mansions majority consisted of thugs, robbers, addicts and all those nasty neighbours you can think of. The story begins with Lito (David Belle), one of our Hero, who is waging a one man war against the kingpin of the local drug syndicate ,Tremaine Alexande (RZA). Then comes along, Damien Collier (Paul Walker), a mole/policeman/sheriff who upheld his duty as a law enforcer in anti narcotics department. It was revealed that Damien has a deep grudge on Tremaine, over his father's death.
[Verdict]
Brick Mansions is filled with action packed parkour stunts, by David Belle (one of the parkour founder). The swiftness, agility, and strength was really fascinating. To add to bonus, Paul Walker comes into the movie as a strong, athletic, capable police officer. There's so much of action that it feels like viewers are exploding from the actions itself. There's guns, bombs, rockets, kungfu fighting, vertigo inducing jumping scenes.
The plot was somewhat familiar, because it is a remake of District 13 movie. The overdose of fighting scenes of cops versus the villains do remind me very much of Jackie Chan's Police Story. The core is the same - a very responsible and dedicated policeman versus the bad, corrupt and nasty organizations.
Overall, it is a satisfying movie to watch. Brick Mansions was
Paul Walkers final COMPLETED movie before his death in November 2013.
It saddens me to see his final piece of action - to see him looking suave in coat, with brown eyes and dark hair, then remove his contact lenses and bathe, and emerge as the Golden-boy Paul Walker that we have always knew him. There's a lot of Paul Walker's goodness in this movie. You get to see him as one of the bad guys, a super incredible cop, and then a fighter!
I miss you Paul Walker! I can't wait for Fast and Furious 7 to complete. *sobs*
XOXO
Posted by: CassandraJiaYee
April 23rd, 2014 >> Posts
My little Lucky, finally found a sweet home for her...
Cute little Lucky with her new 'gor gor jie jie' ...
Imisu, Lucky!!!
Posted by: MsXeRoZ Nicole
April 22nd, 2014 >> Posts
Heyhoo~!!
Sorry for my delay in updating this blog. Things got so busy because I've been baking lately. I am still contemplate whether to reveal my "cake" here. Well.. Ok just in case you have missed out my previous blog posts on Mabul Island, here are the links!
After undergoing multiple training sessions with our instructor, we began to truly enjoy and look forward to every trip we have underwater. Setting up the heavy gears did not become a chore, but instead, we all looked forward to hear our instructor, Benjamin's roaring voice
"Students, GEAR UP"
. As I'm typing this, I swore I had missed him and his voice. *teary eyed* Gosh...Come to think of it, "Teacher's Day" is coming in May. Ah.. Maybe I should get a Teacher's Day gift and post to him? LOL
Benjamin told us to learn and practice the skills he taught us. If we manage to keep our composure, and do the right thing, he will reward us with some photos of us. Then on our 4th day of dive, he nonchalantly took out his camera! YAY!! I guess we must have been a bunch of outstanding students that we earned a photography session with Benjamin. For your information, one of Ben's many talents was underwater observation and photography. He can spot many weird sea creatures, such as kecik-mayong (very tiny) sea horse and sea lice (direct translation of kutu laut). To have our photos captured by him was an honor.
( p/s anyone who knows what kutu laut is called in English please drop me a comment HAHA..)
Roaring to go...underwater!
So, basically, after few days of dive, how do I feel?
I was very enthusiastic. There was two moments which I still could feel the
"adrenalin rush"
until today. The moment we put our fins on, right hand hold the inflator, and left hand holding my mask and regulator.
Count 1, 2, 3 roll back from the boat!
When I'm all in the water, my second most "panicky" moment was when we descend, and when the water level was between surface and water. From the surface, you will see as though it was really shallow, everything is OK. But once your head is underwater, it seems so blue, so deep, so eerie. But keep calm and my body adapted to this whole new world that I have never experienced before.
It's me!
Initially, school of fishes frightened me. I was afraid that maybe come of these organisms may attack me. But I know I can wipe those silly thoughts away, when I see those fish, octopus, squids and divers were happily roaming around. The water visibility was so clear, I felt secure. The thing that I should be afraid of is to NOT damage any of this natural treasures.
Bro Alex
I've seriously never seen turtles (in the sea) before coming to Mabul Island. During my first dive here in Day 2. I remember vividly that there was
THREE CRAZILY HUMONGOUS TURTLES
lying around an artificial shipwreck. Benjamin wanted me to hold onto the ship and look at the turtles, but I
gostan
because
the turtles were so big that I worry if it farted on me, I would WHOoooooooooooshhhhh back to the surface!
I was scared. But he pulls my hand and for one whole minute, me and one of the Giant Turtles there had eye-to-eye contact! The turtles were very gentle, and polite. Some kind of stupidity got the better of me, and I opened my mouth (which was supposed to be occupied by my regulator) and said
"HELLO TURTLES"
That was the most stupidest thing I've ever done. I really did that gesture and tone without thinking as though I'm talking to
Fluffy
, my rabbit. Then the sea water oozes in my mouth and I nearly choked. My whole mouth cavity is salty now. Well, then I realised that, my throat isn't that dry anymore after that incident! Breathing on regulator will make our throats dry and sometimes we will cough underwater. Ben did tell us to sip some water in to stop our throats from being dry. So, this is how it helps!
TianChad and his newfound pet Mr. Squishy
Turtles were everywhere. Just before this photo was taken, we spot an eel with it's head sticking out from the sea bed and its mouth wide open. I swore that I saw that eel has teeth! Ewww.. I was really intimidated, because its head was so thick and large, and god, I wouldn't want to know how long its body is!
Mr Squishy and its new found pet, TianChad
Oh boy, there's so many TianChad photos here.
This must be a record breaking attempt to capture NON-SELFIE photos of Tianchad.
hahahaha... TianChad must be some reincarnation of a sea monster or something because he glides and rolls, and swims like he's home. I'm glad he left his camera on land for once, because otherwise he would have selfie with Nemo, Dory, Squishy or SharkbaitHooHaaHaa...
TianChad the Captain Merman
So this is Wern, my sister. I don't know whats wrong with her,
but perhaps she has a lot of fart inside her intestines that
she couldn't sink during our initial dive trip. Not to underestimate her, she swims like a polite woman. She's the
real epitome of a person who conquers her fears of water.
She is really afraid of water. Like SERIOUSLY! The only time I see she enjoys water is during her daily bathing sessions, other than that, water is her nemesis.
Wern, the polite diver
During her Day 4 of diving in Mabul, she triumphed against her fears. Now's she's all addicted to diving and cant wait for the next trip!
Wern, main cast of "Triumph In The Sea" drama. LOL
So overall, It was a
fantastic experience
that money can't buy. In our daily routine of life, some thoughts come and go, I blabber whatever that comes to my mind. In the water, with the regulator stuck in my mouth, I became more aware of what's on my mind. Every little thing I see, and something will come into mind. Every moment is preserved in me in that way.
So, as I promised. Here's a video of our trip, specially recorded by Cikgu Azhar. To be honest, everybody that I met in Spheredivers Lodge seems to be really talented.
Azhar Adnan
seems to be a serious person, someone not to be messed with. But at the end of the day, all hell broke loose and he was a really funny dude! His photos were all so amazing, you can check out his Facebook
here.
OK..this shall practically end my dive experience, storytelling session. I do have more photos of Mabul to share here. So till then. *Waving Goodnight To Everyone*
XOXO
MsXEroZ


??????????????????

????????????????

?????????????????????



??????????????

??????????????

????????????????????



?????????????????????

??????????????????????

?????????????? ?:'(



??????????????????????



?????????????????????



?????????????????????


???????????????
??????????????? 3
Posted by: admin
April 21st, 2014 >> Posts
I've never been a fan of insects. especially those who think that they're human best friend.
I sound mean, but in this particular day, a bumble bee flew in my room and chill for hours.
I freak out,obviously.
I ran out my room, panic. Now that bee gonna chill in my room forever. I start calling people around for advise. Most of them ask me to let the bee be.
' Open the window and door it will fly out eventually.' said those who knows .
I did that and
It didnt work. bad advise ever please.
The bee enjoy chilling by the curtain instead having the idea to buzz out and enjoy the nature. Imagine surfing the net where out of sudden that bee decided to sting the shit out of you. I freak out, again, with imagination.
' Just fucking kill it with your shoe if you had the chance! It's either you kill it or it'll sting you ' Said good advise Jana.
Which I decided to do it because I just couldn't stand the fear anymore. Courage came to me, I murder it with a thick text pad. I slam the bee as hard as i could with my weapon, with my forces towards the curtain then the window.
It died. and I double slam again, just in case.
Then I photograph it beautifully with my phone, edited and share around my friend.
I murder a bumble bee. Now, you don't mess with me.
Posted by: admin
April 19th, 2014 >> Posts
Thought I could write a little before I starts writing my essay. Right now what I'm feeling is fear. The fear of future. The fear of not getting things done, the fear of planning, the fear of not getting a placement here in UK, the fear of being not good enough. It's all clouding up my head that it upset me every time i thought of it. So i went to have a lil bit of fun, like shopping and hanging out. Every time I come back feeling helpless that I wasted so much time. The fun is not helping me to feel better. It's making me feeling that I'm back to reality.
All of sudden I don't wanna grow up. I cant plan my future well, I don't know where to start. I have the urge of letting things flow, but things just don't go that way. I need to get a placement when summer strikes, a place to stay when my accommodation contract ends. I have to be independent and mature now but I'm so scare stepping into this mature world. It really scare the shit out of me that I dont know how to step forward at all. I'm too comfortable, I never thought growing up would be so troublesome.
Posted by: Copykate
April 19th, 2014 >> Posts
1. Meteor Garden which used to be your favourite drama was released 13 years ago. Now you simply feel slightly ashamed for having owned a F4 clock.
2. Your sister who was born in 1996 is already going to college this year. Last time you checked, she was still an annoying child who used to run around the house naked.
3. You have now come to the age your parents got married. Yet marriage is still something fearful you dare not foresee.
4. You force to keep yourself awake in the afternoon as afternoon naps have become a luxury you can't afford on week days.
5. Your biggest concerns are no longer assignments and exams but your bonus and increment.
6. You adjust your sleeping hour from 3am to 11pm. Waking up after noon time is now a past habit you have gotten rid of.
7. Your latest purchase of apparels consist of blazers and collared shirts instead of jumpsuits and floral dresses.
8. Petrol price which used to be a boring adult topic has now become one of your major burdens.
10. Your mother no longer lectures you about how being in a relationship could affect your studies. Instead, she pressures you to seek for a stable relationship as she worries that you might end up an old spinster.
Responsibilities and commitments. Who would have thought being in mid-20s could be so scary?
Posted by: Jamie Liew
April 17th, 2014 >> Posts
ever heard of this famous bakery called Passion 5? bet you haven't. if you've not lived in Seoul for a period long enough, you might not even know about the existence of this fabulous cafe/bakery which is ultimately posh; bringing bakery to a whole new level as IT IS THE BEST BAKERY SHOP IN TOWN. the name Passion 5 came from 5 elements namely: bakery, pattiserie, chocolates, cafe and the 5th's the passion of the pattesiers. and of course, knowing that it is the best, you should already know that it is expensive. there are barely anything that goes under 1,000won. or was there none? forgot. but most of the bread costs around 3,000won and cakes 7,000won. =S.
even though it isn't very popular amongst foreigners, this place is always packed with people and on the day I went, we had to wait for a seat despite paying so much for just desserts. there's a posh cafe on the 2nd floor but that cafe's queue was even longer. you can bring your breads, cakes, chocolate and ice cream to the cafe/restaurant on the 2nd floor =).
if you love cakes. I truly recommend you to stop by this bakery for the ultimate experience!
and here's a link to the video I took there. you'll definitely want to go there after watching the video. and.. I am sure you'll laugh too. D=.
https://www.facebook.com/photo.php?v=10151965745886850&l=4877772332316760093
from the outside, passion 5 look like every other office building and it definitely do not stand out that much.
but the landmark? this red chicken. or bird. or whatever it is.
before entry, you'd see this amazing looking chandalier which I think would look even more fab at night. the architecture of this part's no joke. it's awesome.
so we were hungry.
3-in-1 cake/??? ?? ?? ??? 7,000won and Halla halla bong ?? ??? 8,000won.
the left is some 3-in-1 cake with a mixture of strawberry cream, coffee and I don't know what's the last one. it's pretty good but not like super duper amazing. but it was super duper amazing just to look at it. the one on the right's called Halla Halla Bong, which was named after Halla Bong, Jeju Island's famous tangerine. it's super sweet and the layers inside's magnificent. not sure if it will fit everybody's appetite but it's worth a try because it's very "wiggly." teehee.
and the entire table here costs 45,600won. I know, it's a lot for breakfast and pretty damn expensive too. but they all looked so posh I was happy just by looking at them.
I ABSOLUTELY adore the cheese tart behind and that the strawberry pastries. bliss.
this bakery's expensive and it is well known for being expensive. but more than half of what we had were actually worth it's price. because the desserts and bread were 5 stars like the bakery. but if you're on a tight budget, you should still try their most famous pudding in a bottle which costs 3,000won. not like the ones from Paris Baguette, these are not as sweet and relatively addictive. make sure to scoop the caramel at the bottom to go together with the pudding! there's no eating this pudding prettily, just deliciously. =D.
we also had a swiss roll. I'm not so much of a fan of that 4,000won swiss roll. too little for such a high price. =S.
o hai =D.
with my Malaysian foodie friend who's as adventurous as me in terms of food, Fakegood hahaha.
this was definitely one of my favourite. it's called some orange in the chocolate lake or something. 2,000won and the middle part's heaven. super moist and yummy. not like your average chocolate filling bread!
another favourite was this. forgot the name but it looked like a strawberry boat. very very crisp and fragrant ahhh. <3. everything was in the right amount. definitely one of the most delicious pastries I've ever had. but of course, I've never been to France. but still, OMNOMNOMNOMNOM.
that 3-in-1 cake earlier. I liked it layer by layer as well but I still found it nothing too special.
Imma devour you all!
had to take a picture with the awesome architecture.
okay, one thing that sucks is that you can't take pictures inside. I was too scared to sneak pictures so… =(. but it's really posh and the ice cream bar looked amazing. there's even a chocolate bar! everything turned me into a little girl looking at yummy chocolates and cakes. and all the cakes were so pretty it was actually a hard decision to choose which to have. furthermore, they have many pretty whole cakes (not cheap! but not like unaffordable. still alright.) so if you're thinking of getting yourself a pretty cake for your birthday this year,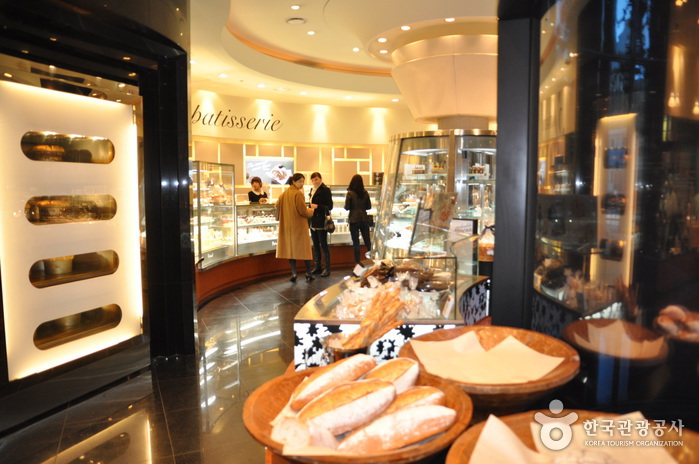 picture from visit Korea website
see that round thingy there? it's filled with the most gorgeous cakes I've ever seen in my life.
and here's a great blogpost I found on the net =).

http://freeflowingmemories.wordpress.com/2013/10/29/desserts-for-queens-at-passion-5/
directions to Passion 5, Itaewon : take the subway to Hangangjin Station (line 6) and get out of Exit number 3. walk straight and you should be able to see the bakery on your left!
Posted by: MsXeRoZ Nicole
April 17th, 2014 >> Posts
It's a sad day where I woke up and found that The Tiger of Jelutong, the one known famously for his bravery and wisdom, had passed away in a car accident. Yang Berhormat Karpal Singh was one of Malaysia's most prominent politician and lawyer. Although that he was against the government, his efforts and years of hard work, fighting to upheld the Democracy that he believed in was respected by me and many others.
I pray for him and his family during this traumatic period. May God bless Yang Berhormat, and do Rest In Peace.
Thank you for everything that you had done, to help the minority in the country.
Posted by: MsXeRoZ Nicole
April 16th, 2014 >> Posts
I'm so numb from my daily routine. I need a holiday~!!!
Come support me. Add me at
Seeties
(ID:@
msxeroz
)! You can win yourself a holiday too!