Posted by: CassandraJiaYee
December 12th, 2013 >> Posts
December , my favourite month , where i can enjoy my precious holiday and celebrate the great Christmas and receive presents!! =D
I always celebrate weeks earlier before the exact date, and this year i had started the first celebration on last Thursday!!
Everyone in the house is in the mood of Christmas even Pretzel started to put on his new Christmas Singlet!
Cute huh? =D
The fatty is way too small to fit in any shirt , thus, i just made him a comfy christmas house ;)...
oh and here's the big one!!! with his raindeer horns on!
Whenever Christmas is around, what comes to mind first definitely the Christmas present!!! *winks*
I've got a BIG supprise this year!
Santa sent me a little furry which can dance , can sing , can poo, can cry , can whatever u name it!
Let's welcome KEE-KOH !!!!!!!!!!!! My little pinkish Furby Boom!!!! =D
When Kee-Koh is boing , throw a mic to her and the little one will start her singing and shake shake XD...
Her biggie eyes blinking nonstop *-*... CUTEMAX!!!!
I understand Furby speak Furbish ! Don't worry!!! Check out their languages and start to learn how to communicate with the Furbish! It's easy and fun!!!
Furby likes family. They lay eggs and hatch them too!! Check out this excitement that you will never wanted to miss!!!! Start to build up a little family for your furby!!! They can't wait to be call 'MAMA'!!
FYI, Furbies are like pets! They will feel boring and tired if you don't play with them, they will fall asleep by themselves.. Otherwise, you can aslo put them to the sleep mode by using our traditional sheep counting way.. ;)
OH! Make sure that when they are sleeping, lower down the noise around them, else... You're gonna be busy again with them XD...
Furby Boom is available in 6 different designs at most major toy retail outlets nationwide and major departmental stores at only RM269.90!!!
Just buy four (4) "AA" batteries for each of them, (batteries are not included) then you may start your journey with them!
For more information on Hasbro and its all-new FURBY BOOM, please visit
www.furby.com
MERRY CHRISTMAS DEARIES!!! XOXO~
Posted by: Jamie Liew
December 7th, 2013 >> Posts
because that is how ??? ??? is directly translated into, PURE Goroke. goroke, or gorokke or koroke, is actually Japanese. fried on the outside and something soft and yummy on the inside. it can be cheese, goguma (sweet potato), vegetables.. you name it. it is normally round and so super delicious. I can never get enough. for a fussy person on fried food, I personally love koroke because they are usually not too oily and it is fried to perfection.
(many tourists may thing that eating Japanese food in Korea is an utter waste of time and money but believe me, this is totally going to be worth it.)
??/??? ????? ?? ??? ??? ??? ?? ??? ? ?? ??? ?????!
say hi to Paul!!! my long time reader from Philippines whom I've met up with when I first came to Korea. yes I treat my readers well =D. but I am so sorry if I had recently neglected many of your emails and all because I am sitting for my finals NEXT WEEK RAWRR.
????? ? ?? ??? ??, ????~
we've actually ordered the oyster goroke first but at first we were only hungry and this shop was so eye catching we decided to stop by and have a bowl of fried oysters which was.. BLOODY DAMN AWESOME. never had anything like that before. I mean, in the history of goroke's that I've ever eaten, these are the best I've ever had. the one shown above is the prawn koroke. absolutely fabulous. it is made so perfect I kept craving for more. so from just a simple lets have a snack idea, we had almost everything that was sold on this store. BECAUSE IT WAS THAT GOOD.
they also serve udon but since we were going for dinner so we thought meh… but because it was cold and he offered us some Udon soup, THIS PLACE HAS AWESOME UDON SOUP RAWR. they put fried goroke flakes in it and a lot of spring onions which made it even more delicious.
?? ??? ?? ?? ?? ??? ??? ??? ? ?????.
this is what we had the first time! the fried oysters with awesome dipping sauce. not sure what it was but I guess it was mayo something with some fish eggs. but really, if you are a fan of oysters (actually, even if you are not) THIS IS PURRRFECT. for only 2,000won? what a steal! 4 freshly fried oyster goroke!
?? ?? ???? ? ???! ??? ?????!
and my other favourite, the prawn with cream goroke. actually, I still can't make my choice. both of them are SO DAMN AWESOME. it literally tastes like bits of heaven. there is another one similar to the above which is called the potato goroke. the guy who sells goroke personally preferred the potato one but I'd say GO FOR THE PRAWN ONE. it is ABSOLUTELY AMAZING.
? ???? ?? ??? ?? ?? ???! ? ??? ? ???? ? ? ???? ? ? ??? ? ? ?? ?? ???? ???.
the potato goroke with seseme dipping sauce! this one was good too but I guess I am just not a fan of potatoes.
?? ?? ????? ? ?? ?? ?? ???? ??? ??? ??? ????? ??? ??? ??? ??? ??? ?? ????? ????!
this is how the store look like! it is located across the street from where I live hahaha. basically just get off Hyehwa station exit 1 and walk straight!! I've actually eyed on this store because their samples look so damn attractive but I had to rush to meet someone every damn time and eventually forgot about it. but I am so glad I tried it finally! absolutely heavenly!
? ??? ?? ?? ????.
an easier landmark would be Caffe Pascucci. it is right in front of it. or get off exit 4 and walk across the main street and you'll see it too. hahaha.
??? 1? ???? ? ?? ?? ???? ? ? ?? ????. ?? ? ?? ????! ??? 4? ???? ??? ??? ??? ? ? ????~
Posted by: Jamie Liew
December 3rd, 2013 >> Posts
I posted this more than a month ago on facebook. I hope that everyone will treasure not only your family but even your friends. and do not make the same mistake as I did. the truth was, I was so busy I had always told him that I'd talk to him later but I was always so occupied I barely even remembered. so dear all, I truly hope that you can treasure your dearest friends before it is too late..
here's what I had posted:
There was a guy I met through my blog a little more than two years ago. He scouted me for a job because I knew a little Korean at that time but it wasn't adequate so I didn't get it. But he was very supportive and encouraging. He then invited me out for dinner and we had met a few times and eventually became good friends. I was stupid to even have thought that he had motives the first time despite the age gap but he turned out to be a really nice guy. One of the nicest guys I've ever met to be frank. His intentions were so pure and every time he treats me extra nice he would explain that he had no special intentions and that he just wanted company. I suffered from mild depression and when it got worse he told me that if I'm living and healthy then that's the greatest thing. He told me about his condition that he'd not normally share with others just to make me feel better. And after so long I wondered why he stopped contacting me since he said he will definitely come back to Korea and we would go to Noryangjin to have loads of seafood. I suddenly recalled that he told me he is like a living time bomb and i got worried so today I finally went to his facebook profile to find that he has passed away. I regret for only knowing it after two months. Please forgive me my dear friend. I am truly touched by everything you've did for me and I was going to treat you as nice when I grow older like you too. But there's no more next time and I wouldn't ever get to be as nice to you as you were to me. So people, please treasure your friends and be as nice to them whenever you can. As heart broken as I am I wish you can rest in peace. You will always be missed, dear U Fu. A truly amazing guy who had reminded me that there's still hope in humanity.
just noticed that I have never ever had a picture together with him. =/.
you'll always be in my heart. :').
Posted by: dblchin
December 2nd, 2013 >> Posts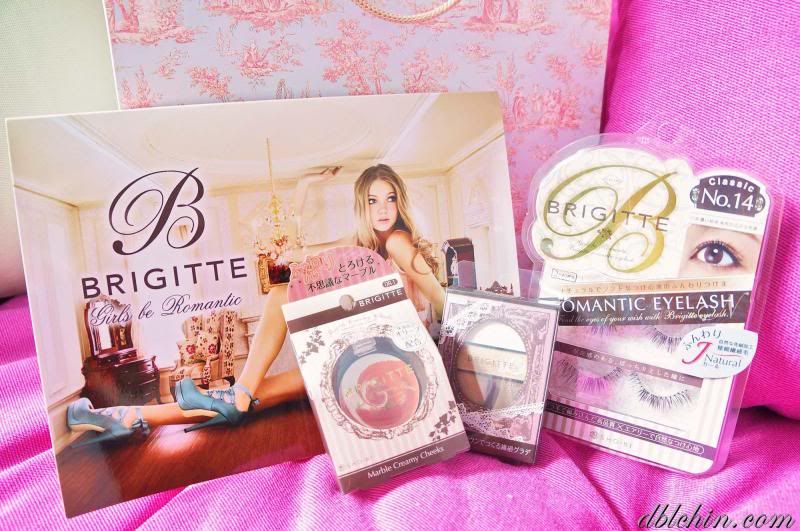 I've been a loyal fan since Brigitte stepped foot in our shores a year or 2 ago (read
here
), the girly feminine packaging fascinates me to no end.
Basing on my assumption with so much Kawai factor, Brigitte cosmetics is definitely a direct competitor to Majolica Majorica and both of them strives to capture young women hearts like mine.
Wait, before you start identifying me as an old hag, the latest press kit I have with me states Brigitte's Target Audience is 20-33 years old, so I'm still considerably young ok. Swee, heng, kawaii.
This time round I received a couple of new things from their latest collection, first let me go into this oh so fine! cream blusher.
Brigitte Marble Creamy Cheeks is available in 3 shades

Every blush comes in 3 psychedelically marble tones to give a gradual silky finish.
The formula is mild and light and is very easy to pick up the colours even thought it looks faint on the skin.

The trick to apply them is to swirl my finger tips on the blusher and blend mixture lightly on the apples of my cheeks giving it a clean subtle outcome.

Almost transparent but yet the tinge of blush is noticeable, here's an #LOTD with Brigitte Marble Creamy Cheeks in OR-01


When it comes to the eyes, nobody does it better than Brigitte.
When you see me looking at cute fluffy lashes, you know is time you strap that straitjacket on me because I will buy buy buy until there's a hole in my pocket.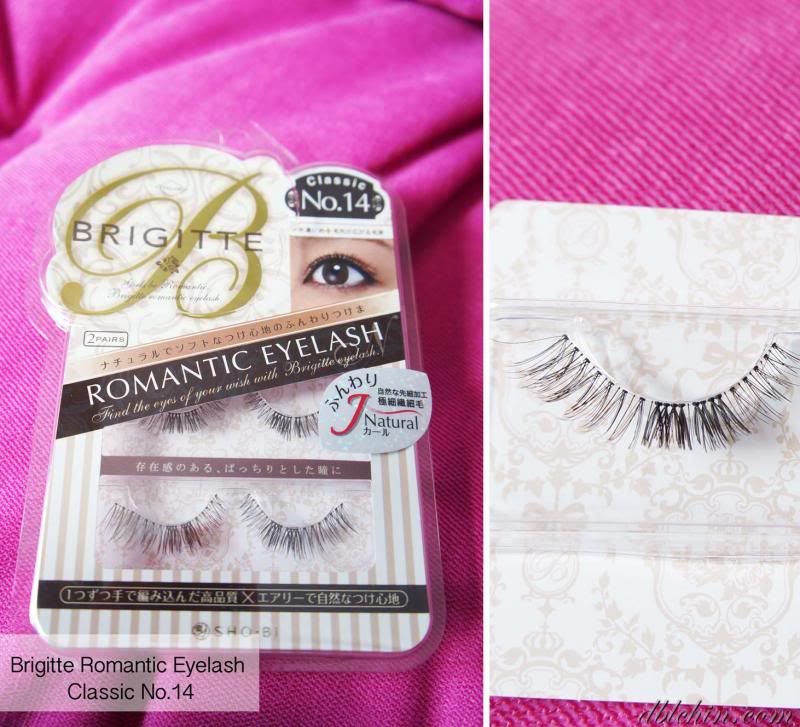 Brigitte Romantic Eyelash comes in 6 different designs, 2 pairs in a set.
Each bristle is made so fine it'll almost look like your natural lash when you wear them on!
My top favourite aspect of Brigitte's falsies is the lash Bone, so transparent almost unbelievable that is fake.
I'm not only huge on lashes but also eyeshadows!
They contribute an important part to my entire look, here I have with me a similar palette to my already
existing collection
.
Brigitte Romantic Eyes is available in 9 different quads.
Almost identical to my existing OR-1, GD-1 comes across as a heavier dose in shades and pigments.
If you are looking for a complete smoked out look, GD-1 is the one to get.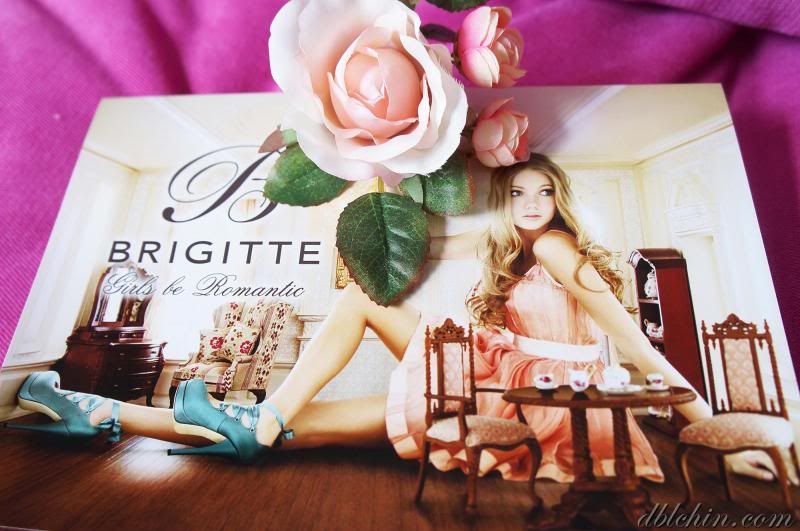 Hope you like my Review :D
?Dblchin
*products are sponsored, opinions are my own.
Posted by: admin
November 25th, 2013 >> Posts
The day started well with a wholesome breakfast at
Tim Ho Wan
. Better than most of the dim sum places in Klang Valley, I would say
"please help yourself with affordable dim sum at Michelin one-starred Tim Ho Wan, by all means"
. The crowds and queues were there but the wait was worthwhile. Chances are you will be amazed by the speed of staff escorting you to a table. The smaller group you have, the faster you will be seated.
With a bloated tummy, I made my way from Sham Shui Po, Tsim Sha Tsui, to Mong Kok to meet up a colleague of mine in KPMG Hong Kong (back then). Just as we were wandering aimlessly at Tsim Sha Tsui, we spotted this small setup of
Hui Lau Shan
. The curiosity got hold of me and I suggested to try it out.
Hui Lau Shan's mango dessert with coconut milk and red glutinous beans
Tables were placed closely with one another. If you were any fatter, you would bang the tables down without even trying. Staff were bustling like trained bees, bringing in customers' orders like mine. The faint yellow portrayed in front of me was a bad omen. Such sourness was no doubt of young mangos or worse, the wrong mangos! That bland red glutinous beans gave me the impression that they forgot to put sugar in it.
In summary, I think Hui Lau Shan in Klang Valley serves better one.
Hui Lau Shan's mango mochi
My friend ordered a dessert set which came with this mango mochi, which he offered to share. Such bright orange was too inviting to not devour. The outer layer was soft and chewy, in contrast to the crisp coconut flake. The mango filling was filled with mango cubes in thick mango lava. It was made in one-bite size which is convenient to pop one into your mouth and let the sweetness break lose in your mouth.
Please help yourself with some.
1881 Heritage Complex in Tsim Sha Tsui
After a disappointing visit to the famed
Hui Lau Shan
, we took a stroll at
1881 Heritage Complex
in Tsim Sha Tsui. Formerly Hong Kong Marine Police Headquarters with a history of 129 years, it is now housing a shopping mall, a heritage hotel and an exhibition hall. Well, needless to say, prepare a good buck if you wish to crash here for the night or grab a few bargain along the way.
Interior of the complex
We roamed around the courtyard in the hot afternoon sun, took shade in between while enjoying the sceneries and mesmerizing (maybe just me :p) at this new shopping concept which is new to me. It was when we came across this small tower, namely Time Ball Tower. As the name indicated, it served as a time indicator for ships coming in Hong Kong as their chronometers usually lost its accuracy after long voyages.
Australian Dairy Company's steamed egg
I must say if one wasn't shopping in Hong Kong, it would be eating. Entering Day 3 in Hong Kong, my legs were screaming for rest. As the clock approaching 3 in the day, we headed to
Australian Dairy Company
for some famous steamed egg. Being a sweet tooth myself, this bowl of steamed egg was densely packed with sweetness that I would gladly do with just a quarter. That aside, the texture was perfectly smooth.
Total slurp slurp goodness!
Kai Kei Snack at Mong Kok
After loading ourselves with overly sweet steamed egg, we found ourselves back to Mong Kok again. This time, I did some shopping at
Sasa
. Just so you know, every
Sasa
I passed by was always full and almost everyone would be carrying few products in their baskets. Yours sincerely happily joined the sweeping force and landed few Shiseido products into my basket. It was hard to resist when you get 25% + extra 10%. Total damage: RM498.95. In Malaysia, you would probably spend over RM600.
Kai Kei Snack's curry fish ball (HKD 8)
A satisfied shopping experience was then followed with a little snacking. Curry fish ball is probably most down to earth kind of snacks you can find in Hong Kong. Simple, cheap and eat it while you stand.
Kai Kei's fish ball was less springy and more of starchy side, almost resembling the cheap sotong ball you find in Malaysia. Curry was not too exciting either.
Guess I am just too spoiled with chillies, curry, sambal in Malaysia.
Lee Keung Kee North Point famous egg waffle at Mong Kok (HKD 15)
Now that we were done with the savoury snack, it was time for the sweets again. Instead of heading all the way to North Point to have a taste of the famous egg waffle, I resorted to
Lee Keung Kee
's branch in Mong Kok. That smell of egg and flour surely gave way to its hidden crib. I ordered one and it was huge!
Crispy nonetheless, I was half heartedly wished it would be more moistened inside and more flavour.
Little Sheep's yin yeong soup base - Ma Lat and normal soup base
It was a long wait between tea time to dinner as the weather wasn't really on our side. It rained twice, to be exact; once while we were at
1881 Heritage Complex
, another while we were on the bustling street of Mong Kok. Everyone was scampering, trying to look for shelter in whichever form they may be. Two of us half ran half sprinted and went into McDonalds. Surely it was crowded, especially in this weather. After good two hours of hide in McDonalds, we headed to
Little Sheep
and have some steaming hot Ma Lat and normal soup steamboat.
The menu of Little Sheep or Xiao Fei Yang at Mong Kok
I must say it was quite a hefty price to pay for steamboat in Hong Kong. What costed us RM20-30 in Malaysia is at least double here (in my case HKD 160). Good thing was the meat selection here was of good quality and most of the items were refillable. Soup were good, just that I did not get to throw some scallops to make it all the better.
Was it value for money? Probably not for a small eater like me who doesn't fancy seafood with shells.
Panaromic view from Avenue of Stars at Tsim Sha Tsui
Dinner filled me to the brim to the extent I wouldn't want to walk. Being all touristy, I was here at
Avenue of Stars
just to check out whose palms those were. To my amusement, the sea side view attracted me most. Feeling the breeze caressing my cheek while smelling the faint salt in the air, my night could have been better with less humid atmosphere.
Cloudy night
Not sure if it was the norm but the dark sky was all cloudy. While the ferries busy manoeuvring to and fro mainland and Hong Kong Island, the light cast on the sea did have its own appeal. The sound of rippling waves, the ever changing neon lights, can someone send me a leaning chair with a glass of whisky on ice?
Here I was at Avenue of Star
The Avenue of Star was not alone in this humid night. Tourists, most likely from mainland China, were all chatty and excited about some stars they could relate to. As for me, it was nothing spectacular to spot palms on the famed walk way. Rather, I found this little girl liked my camera very much that she just had to interrupt amidst my photo taking.
My Director friend
I guess, being all touristy does mean you have to take a picture with you in it! Here you go, me with my director friend. At this juncture, I still don't believe all the circumstances that led me to this foreign land, which also happened to be my FIRST overseas trip.
Hong Kong style ice cream (HKD 9)
Life is a journey, you just can't stop travelling. In the meanwhile, have a cone of ice cream. This was another down to earth thing you must try in Hong Kong, i.e. that ice cream from the ice cream truck.
Creamy vanilla in a crispy waffle cone, simplicity at its best.
Mrs. Fields Cookies at Tsim Sha Tsui MTR station
Life is like a movie, have some cookies. Could it be just me or that Hong Kong's sweet stuff is really double the sweetness? One Mrs. Fields Cookies and I was all done for the day. Psst... HKD 39 for 6 after 9pm.
Go ease your bad days with some of these sweet and soggy cookies.
It was hard to believe that it was the final full day I would be spending in Hong Kong.
I am going to miss this place very much :(
Most of you had probably seen the Atlantic road pictures with a rainy and stormy weather~ Well of course it looked more dramatic but obviously not nice for us to travel there in such a weather ~
Fint Vær meaning Good weather is what most Norwegians Love ! As it's rare in Norway for such good weather in Summer ~ most would Go out for walks, camping or day trip~ And What we did in Molde was to get to this Atlantic road and see how high it is ~
Well, here's a pic of our friend in Molde~ Mariann~
She drove us there and she was an amazing driver !
Here's some picture along the way~
I can say all of Norway is so scenic for me ~
At last ! We 're there ! From this angle it sure looks curvy
Yet from other angle, it looks Normal~~
Hmm Angle issue~
Does this look better? Hmmm not so~~
Bottom line it's hard to stop the car in the middle of the road an get a nice picture angle of the atlantic road !
Here's a view of the top while we're driving~ High?? Quite a slope bridge while we were on it though~
And OH!! We had a stopover at her friend's place and they had a blackcurrent farm !
Remind me so much of Ribena blackcurrent syrup back home~
Well, it tastes less sweet for sure but still good!
Want SOME??
Back to Molde~ AHhhhh Nice view from our room window ~
Just Strolling in Molde town~
And went on a Yatch pretending to be some Captain!! :D
Big one with 3 rooms and some bathroom~ ~ ~
Norwegians and their love for the sea~
Chilling on the Yatch with our friend~
And also had a swim ! BRRRR COLD For a summer !
16celcius ~
Here's a pic of the Yatch ~
Molde was surely gorgeous and we headed next to Åndalsnes on this bus !
Well, all long distance Norwegian buses had toilets in it~
It costs 350Kr for 2 person
The bus had to take a ferry to get to the other side ~
Lot's of fjords here and ferry's are the most efficient way of transporting if there isnt any bridges.
Here we are Åndalsnes!
We got onto a Church train and thought it was so cool ! Sermont in a train !
Hiked on a Mt for the View!
It's gorgeous !!
This is how Norwegian forest look like in Summer~
Now you go~ the Fjord in Åndalsnes
Spot some weird pimped up car in Åndalsnes ~ Not common at all !
Åndalsnes
And then ~ Back to OSLO on this Raumabanen train~
Famous for the scenic view on the train~
Selfie time !!
# DO you know SELFIE is a word now in Oxford dictionery?
The scenice view~
And this was the view from above our flight with Norwegian air~~
Back to our cozy home in OSLO~~~
XOXO Thanks for droppin by ! :D
Posted by: Jamie Liew
October 10th, 2013 >> Posts
there are just so many ways to lose weight in South Korea. but the thing is are you disciplined enough. well me, I am not. but because of the increasing number of lazy fat girls like me, they came out with the best way. you do not need to eat less nor skip meals. all you need to do is replace your meals with Ottugi's Cup Noodle.
why? because it is only contains 120kcal! I am not being paid to write this wtf. they have several flavour like the Udon, Jjimdalg, Prawn.. but my favourite is the spicy one. it is just so good. basically they are glass noodles in freaking delicious soup and a cup noodle like this only costs around 1,000won depending on where you buy it. I've seen it selling in Carrefour (Cheongdam) for only 890won wtf while some places are selling it for 1,200won. there is a bigger cup with slightly more calories for beginners hahahaha.
well of course it isn't very healthy to lose weight this way. but these cup noodles (with collagen! everything related to beauty in Korea MUST have collagen.) are actually created to help you lose weight. they wouldn't be 120kcal for nothing. and it is recommended that you take it through a week straight to see results. I definitely saw mine. in fact, my super hot girl friend with a super hot bod from my school (Sungkyunkwan and their hot girls. tsk. makes me sad.) recommended this to me and said that this is her secret to losing weight. well since I was really fat (and still quite plump now T_T. can't diet. I NEED THE ENERGY!), I ate the cup noodles twice in a day sometimes. and I did it for more than 2 weeks.
I would sometimes substitute one of my cup noodle meals with this only 100kcal yoghurt. but since it is really bad to be taking less than 1000 calories a day (when you eat, you'd gain right away!), I eat a decent 500-700 calorie meal each day.
and I also found this absolute ramyun gem.
the instant japchae!!! and it tastes bloody freaking awesome. it isn't available at most places and you have to go to huge marts for it T_T. so far I've seen it only at Grand Mart in Sinchon le sigh. I am pretty sure I've came across it at some other marts/supermarts, but I can't recall.
this is how it looks. it is really really really good. and I reckon these would make very well souvenirs hahaha. but they are also a little bit more pricey compared to the usual Shin Ramyun which costs 850won. these are 1,350won if I am not wrong. well, it tastes good and it contains only 220kcal.
but also, I do devour awesome high calorie food like..
galmaegi-sal. Pig's brisket meat or something. but they are so darn good. especially the ones at Kang Ho Dong's BeakJeong ??? ?? and they are so cheap. 2nd cheapest. cheapest is Samgyupsal still teehee. it is my favourite part! how can my taste be so cheap wtf.
here is my hot friend even on candid, Wai Yan. she was really famous in lowyat.net so maybe you'd know her. hahahaha. and all of you who thought she was fat, I am here to tell you that she's lost weight and is now hot as hell. =D. well bad thing about having a hot friend is that they make you feel low. >=(.
here's a weird picture of me because none of them looked decent. Wai Yan was just snapping away and I was talking in all of it wtf. was cooking for Princess Wai Yan hahaha. I cooked well! right? Wai Yan?
Posted by: MsXeRoZ Nicole
October 10th, 2013 >> Posts
YEAH..
Plants Vs Zombies 2
hits town finally. I have always been a fan of
Plant vs Zombies
(PvZ)
, my
WHOLE FAMILY
plays PvZ. This game is truly a game for all.
I happened to download
PvZ 2
on my iPhone
(without realising it wasn't released on Android yet)
. I even asked my friends to download and play, unfortunately, they told me they can't search it. Then, I realised that I had the privilege to explore this game first before them!
(To set the record straight, I'm really bad at games. When I say bad, it means REALLY BAD).
So, I'm dedicating this blogpost to all
PvZ
lovers (especially my friend, Koko), an introduction about
PvZ 2
In Plants Vs Zombie 2, we were teleported to the ancient world of
Zombgypt
(Zombie + Egypt). We have to pass every stage, in order to unlock new plants.
Occassionally, there's a locked path, and some stages have to be repeated in order to fight Yeti Zombie or to obtain the keys to unlock the route. In every stage,
to obtain a star, you need to fulfil the requirement
. Hence, adding a little difficulty in
PvZ 2
compare to the older version. In PvZ, every stage is almost similar except for the different terrains and monsters.
Like the old times, Crazy Dave is still crazy! He's so crazy that I'm suspecting he could be my biological father. LOL! jk -.-
Plants available are also very similar with the older version. As I had just started playing, I only have a handful of plants to defeat the zombies.
Although the maps are as complicated as spiderwebs, the added comedic feature such as the look of the zomb-sphinx ( zombie + sphinx) is funny!
I really love the little details of fun in this game. Here's a PyraHouse (pyramid + house).
Performance wise, this game has been running smoothly on my iPhone 5. So far no problem such as lagging, hang, or crash.
If I'm not mistaken, the Android version is out now! Check it out
here.
Hope that everyone will enjoy the game as much as I do.
WATERMELON SMASH!!!! *jiuuuuuuu*
XOXO
Zombified MsXeRoz
Posted by: MsXeRoZ Nicole
October 10th, 2013 >> Posts
Yesterday, I almost met with an accident. And as I was about to sleep, I witnessed an accident through my windows. I've decided do my part as a community member, and lodge a complain to MPSJ about the road conditions around my neighbourhood.
My area has been experiencing streetlamps blackouts since the machines have been placed there. Coincidentally or not, I don't know. But in Malaysia, even brightly lit areas can be a hotspot for crimes to happen, what more a darkened street like this. I pity those pedestrians that have to use this road to walk home, as the bus stops along the main road. I pity those car owners who have to park outside and walk home in such a dark conditions.
The only occassional lights that we have for this 2 weeks was from passing vehicles. To make matters worse, the junction was blocked by machines (both sides: left and right hand of junction). The machines are left there, unattended for at least 1 week already.
The barricades makes drivers almost impossible to spot incoming car, when they want to turn right? The little space for vehicles to stop, before turning into the junction was taken up by the machines and barricade, and incoming cars will STOP RIGHT AT THE ENTRANCE (the gap/mouth) of the junction. This is totally unpredictable because outgoing car, will not expect incoming cars (can't see their signals due to the barricade) to SUDDENLY STOP at the narrow entrance/exit gap!
I have experienced this before, yesterday, I wanted to turn right, I looked left, right, ok clear, as I stepped on my pedal, suddenly a kelisa stopped right at the junction, blocking my way! I couldnt blame her, as s

he cant see me, and I cant see her

. After all, she has no space to stop, as the machines and barricade took a large space at the shoulder of her side of road.
I have never opposed any development or road upgrading works. But I have been very vocal in voicing out dissatisfaction on poor work planning. The execution of works and traffic planning to make way for LRT construction was very poorly executed. A portion of the road were taken up, without leaving residents alternatives or new routes to exit the particular area, especially during peak hours.
I sincerely hope that there will be no more accidents to happen in my neighbourhood again.
hoping of MPSJ to take action.
Posted by: MsXeRoZ Nicole
October 6th, 2013 >> Posts
It's time to get out of your cave and celebrate Oktoberfest! Throughout the month of October, drinkers (yes, you and me) can celebrate Oktoberfest with a series of themed parties across the country. Evenings of
good food
from around the world, great fun with exciting contests, promotions and activities and of course, GAB's selection of award-winning beers including

Tiger,

Guinness,

Heineken

and the
official Paulaner Oktoberfest Bier
, brewed exclusively for the Oktoberfest season.
Guinness Anchor Berhad (GAB), the leading beer and stout company in Malaysia will be celebrating the iconic German Oktoberfest with an exciting consumer promotion that provides discerning beer drinkers with a

special edition 1 liter Ceramic Oktoberfest Mug

when they enjoy GAB's iconic brews! Click here to visit Oktoberfest Malaysia Facebook Page to get updates on fun events and exciting promotions:
https://www.facebook.com/OktoberfestMY
**Facts & Figures about Oktoberfest**
1.
This celebration initially started as wedding celebration in 1810 to commemorate the union between Crown Prince Ludwig (who later became King Ludwig I) and Princess Therese of Saxe-Hildburghausen at Theresienwiese (translated as Therese's meadow / field) – it is for this reason that Oktoberfest is referred to by Germans as 'die Wiesn' or 'the field'
2.
Through the years, Oktoberfest celebrations have had a number of different elements and activities, including horse races, street parades (in traditional costumes), live music, dancing and of course the appreciation of authentic Munich-brewed beer.
3.
Currently, Oktoberfest is a truly global celebration with almost 7 million visitors consuming over 7 million litres of beer and more than half a million chickens throughout the celebration (based on 2011 figures), which lasts between 16 – 18 days from the middle of September to the first Sunday of October.
4.
For 2013, the Oktoberfest festival proper will run from 21 September 2013 to October 6 2013 – a total of 16 days of culture, cuisine and beers
What Makes An Oktoberfest Beer?
1.
All Oktoberfest beers must be brewed within the city limits of Munich and must also conform to the Reinheitsgebot or Bavarian Purity Law which strictly governs the production of beer in Germany by limiting the ingredients that can be used
2.
All Oktoberfest beers are approximately 13% proof (about 6% alcohol), meaning they are a little bit stronger than their "non-Oktoberfest" variants
An Introduction to Paulaner
Paulaner, the no. 1 German wheat beer, is part of Guinness Anchor Berhad's brand portfolio
1.
Paulaner was first brewed by monks from the Paulaner monastery in 1634 making it almost 380 years old – however it is still the "youngest" of the Oktoberfest Beers
2.
Unlike the rest of the Paulaner range, Paulaner Oktoberfest Bier is not a wheat beer but instead a lager.
3.
Paulaner Oktoberfest Bier, like all Oktoberfest beers are approximately 13% proof (about 6% alcohol), meaning they are a little bit stronger than their "non-Oktoberfest" variants
4.
At the Oktoberfest celebration, each Oktoberfest beer operates a number of tents which provide different drinking experiences. Paulaner is famous for three widely popular tents, namely: -
•
Armbrustschützenzelt
– 'Armbrust' means crossbow and this tent certainly lives up to its name with a crossbow shooting range available for more than 110 years
•
Käfer's Wies'n-Schänke
– this is a smaller tent that gets VIP visitors from all over the world and serves signature gourmet food such as "Käfer-Duck" and a roast saddle of venison.
•
Winzerer Fähndl –
This tent is also popular amongst VIPs due to its attention to detail, celebrated oompah band called "Nockherberger" and iconic tower with a giant mug of Paulaner sitting atop it
The facts and figures don't matter at all. Just have a sip of Octoberfest beer and enjoy the celebration. Let the party begins! WoooHoooo!!!!