Posts Tagged 'love'
Posted by: admin
May 27th, 2014 >> Posts

Calv and I had just ended our conversation through Facebook call before I decided to make a quick blog post over something that comes very spontaneous to me.



Photo taken at one of our favorite islands in Thailand.

Well, it is not that spontaneous after all when I have been thinking about this person for such a great, long time. The image, the voice, the warmth, the fun, the happiness and the joy that this person brings me since day one is unbelievably addictive.


Although we are in a distance relationship (and now marriage), my emotions and thoughts seemed to evolve around him. You might be surprised of why I become so sentimental in this post. I shall not question and I shall not hide my feelings for what I have been greatly affected by all his loves, cares, supports and efforts all these while.

I feel safe and secure for I know that I will be guided and supported.



I notice that I have learned and grown so much ever since I know this person. This thought begins from a conversation that I had with my manager in this very afternoon. I have discovered that I am more organized and practical to my work. Besides that, I can be straight and directive in my conversation with good intention behind. Despite of the few values that I discovered, I also realized that I am more confident and being more acceptance of who I am before and now.



The gift.


Reasons for my growth and development are believed to be built through my inner strengths openness to learn from experiences, high achieving working environment, people around me and of course, from the loves that I have been blessed… *thank you*



The unexpected joyous moment.



Life is full of unpredictable challenges and I do have my down moments. My bed is not always full with beautiful and scented flowers. However, I am braver in facing upcoming challenges. I am happier in awaiting for tomorrows. I am hopeful to achieve shared and personal dreams.


Eh eh…. why I can see clouds and hear birds chirping around me? *dream*



Today, I even made a silly promise to my manager to keep me accountable with one action item. I do not plan to share it here yet, but this promise is made out of 2 reasons:


1) To achieve the dream that I have always wanted to accomplish
2) For love.

I even asked her to give me consequence (which I suggested).
If I don't do X, I will buy magnum ice-cream for all the 'failure' I make throughout the year. Seem challenging uh? Oh well…. 'Golden mouth has just spoken out'.. The promise must go on~




Thank God for all the guidance and loves that you have shown me. Please, continue to guide and bless me with the ability to love, patience, wisdom and joy so that I can share with my loved one, my husband.

Good night <3



P/s: To you who are still waiting for your right one, I pray and hope that you will find him/her soon and receive the loves and joys that you wish for <3
Posted by: MsXeRoZ Nicole
February 19th, 2014 >> Posts
I miss my CNY holiday. Wanting so terribly to be far, far away from the city. Lately, the air was filled with a burnt smell, and it was so hazy! I've been mopping the floor everyday since Friday, and everytime I come home from work it felt like someone poured flour on the floor! Gosh somebody helllllp! Only God know what entered our nostrils everyday!
As I have mentioned in many of my blog posts, I explored a hidden waterfall in my husband's hometown. I'm going to keep the location hidden, so that nobody will ever destroy this lovely place. Wahahaha! It's 5 minutes walking distance, and surrounded by lush greens.
From afar, the gushes of water can be heard. Leaves of the big trees waves in the wind. The jungle path into the waterfall only fits one person at a time. And, after that, I was greeted by a beautiful sight like this!
The water was crystal clear, and freezing cold! The river bed was sandy and cold. One foot into the river and you arw instantly being reenergized. The chilling sensation tingles throughout the whole body. Rocks were scattered around, but easily climbed. Everything was so perfect!
I can also see fishes swim in the water, as it was so clear! Best of all, the lush trees provide a great canopy, and the sunlight was amazingly beautiful.
If only I have a better camera... Haha! Well, we caught a fish! This is a local fighting fish. This fish was fierce! It could jump out from the container we had it in, and then it practically wiggle all the way to the waters again.
I think humans have chased wealth, power and some insane things that we have destroyed the treasure that mother nature have gave us. Developments, constructions, cars and open burning has made Earth so uncomfortable to live in.
And I think it's too late to regret now...
Xoxo,
Msxeroz
Posted by: MsXeRoZ Nicole
February 14th, 2014 >> Posts
Happy Valentine's day Jian aka XeRoZ!!!
I wanted to do a lengthy blogpost but i took the cough mixture and all i can describe now is zzzz zzzzzzzzzz zzzzz followed by *snores snores*
Hey husband, thanks for letting me extort you all year long! Hey, that means, my Valentine's Day goes all year long! Haha!
Since I'm unwell, tomorrow you pamper me ya! I will pamper you next year! Haha!!
*falls asleep halfway typing*
Zzzzzzzzzzzzz
P/s: really drowsy, just realise loads of spelling mistakes!
Posted by: MsXeRoZ Nicole
December 16th, 2013 >> Posts
Did you know that when animals passed on, they are said to have crossed the
Yesterday, I found out that
Rambo
(instagram: Bunnymama) who was struggling with some illness has left us. And in the evening, I saw this huge rainbow right before sunset. It was really beautiful, and I can imagine Rambo running, hopping and doing binkies along this rainbow bridge.
I just realised how much an animal can move a person's heart. How much my rabbits meant to me. How can humans be so cruel to animals?
I don't know how long can my bunnies be with me. One day they will grow old. I will grow old too. But every moment they have with me will be cherished. Every poop and every fur they shed, I will treasure them very much.
SOB SOB SOB
WHAT A EMO BLOG POST TODAY!
xoxo
MsXeRoZ
Posted by: admin
June 23rd, 2013 >> Posts
Hi guys!
How are you all lately? Finally, I have taken the guard to come back to my quiet space and update myself. I have a news here!
I am getting married in another 9 days!
OMG!!!!
I still couldn't believe it. I mean, I couldn't believe that I am marrying Calv after years of dating. Of course, I am happy and excited because I am marrying to my soulmate. One thing which I am pretty aware of - my singlehood is going to end in another few days!
Another round of OMG!!!!
I am grateful and thankful for the journey which I have been through with Calv and I pray that we will be blessed with a loving and happy marriage together as a couple, a spouse, a teamplayer, a business partner (emm.. what type of business?), a parents, a family or... probably just as simple as 'you and me'.
In the meantime, I would like to thank to all my readers who have been following my chapters of life between year 2007 till now despite of my frequent disappearance. Often, I curved a secret smile on my face when I am thinking of some funny comments from you, or feeling touched remembering the warm support from you, or pushing myself to stand firm on my two feet while enduring a hard moment after recalling a harsh but true comments from some of you. Although it has been years and my Disqus comment system had eaten all the old comments *mourn*, you guys are still in my mind.
Hence, I would love to share this moment with you - a moment where the bride-to-be is excited with 'double-hood', nervous with the future has for her, happy to love and be loved and thankful with whatever she has right now before moving into a new book (well, not just a new chapter anymore). Let us cheers this moment with a smile.
Thank you and I love you <3>3>
Posted by: admin
January 28th, 2013 >> Posts
Probably some of you are not aware that I am being proposed on the 12.12.2012!!!
Although it has been 1.5 month, I seriously still couldn't believe it!

Oh my!

While typing this out, the ring is clinging on my right finger. Well, I hardly wear ring since childhood (except those that are made using straw and flower stem). So, it still creates the unfamiliar experience whenever I wear it. By the way, I don't wear the ring often because I am worried that constant use of whiteboard marker at school and my clumsiness will spoil the ring. I am not a good care-taker so this time, I am determined to be one, for the sake of the ring which symbolized his love.
I have always intended to write a full long post on the proposal. However time doesn't seem like wanting to be my friend lately. Well, it is ok because there is a videoclip created by one of my friends, Steve that recorded the moments.
Till now, my cheeks will still turn red whenever I watch or recall the moment.
Shocking. Drama. Loving. Precious.
To some of you who do not understand Mandarin, it might be difficult for you because all the actor and actresses conversed in Mandarin.


Again, thank you to those who participated and contributed in my very special proposal day. Thank you for your love, care and blessing ?
Posted by: admin
January 8th, 2013 >> Posts
I had written my 2012 Review for almost a week in Facebook and I think it is best that I just CTLR+C and CTRL+V here. It is the beautiful memories that I wanted to share with even if you are not in my Facebook ;)

------------------------------------------------------------------------------------------------
2012 has been an amazing year. Never had I thought that it will end so quickly! What had happened yesterday was like a dream, so beautiful and meaningful.

There are so many 'first times' I encountered throughout the year 2012:

- First time having my own room
- First time being a teacher
- First time helping Calv in house moving
- First time being a DSLR user
- First time receiving salary
- First time treating my parents on expensive restaurant
- First time making doodle notes
- First time cooking for Calv Seet
- First time owning a Bamboo device!!!
- First time being crazy over Instagram (Follow me @curryegg !)
- First time having an iphone as present
- First time meeting a long-lost childhood n NS friend
- First time squeezing out all my creative juice for creative assignment.
- First time seeing my students' drastic achievement in academic and attitude
- First time buying 24 books in a month!
- First time paying for my passport.
- First time having birdies photography session
- First time flying to oversea with Calv

Me and my TFM collabs in our traditional attire.
One of the activities that my students enjoyed the most ;)
My DSLR and I!
Sorry. Not Halal. By the way, this picture was 'stole' from his photo album =P
That is the exact reaction when I unwrap the present and saw the word, "BAMBOO!"
Birdies + Baby panda!
My pancake at Samed Island, Thailand~

Of course, there are other down 'First time' such as:

- First time crying in front of the students
- First time being so lost and down
- First time not blogging for 100 days!


Well, I am thankful that my good 'First times' are higher than the opposite one ;)

Of course, not to forget my highlighted first time:
- Being *cheated by a bunch of friends and relatives because of Calv.
- Being proposed under such an unpredicted circumstances
- Being hold by a ring
- Owning a custom-made diamond ring
- Having face so red and warm throughout the week!
Oopss.. Ok. Pretend that you have not read and seen this picture so that I can tell you more in details by continuing my Love Story Part 3.


Oh... and first time receiving so many blessing and like from you guys in FB! Thank you.

2012 was indeed an adventurous and eventful year that i will never ever forgotten. Thank you for the year and I am ready to jump on my new 2013 chapter. I know that it will be my legendary year and I shall reveal the reason day by day, till I do my another end of year reflection again.


Happy New Year and let's turn our 2013 as our canvas and be an artist to paint the way we want it to be!

***

Special thanks to:
My parents, Calv's family, my best buddies, TFM friends, LDOs, principles, teachers, students, students' parents, blog readers and you. You guys have played an important role in my life. Of course, you.. my dear Calvin. Love you all ?
Posted by: dblchin
January 3rd, 2013 >> Posts
Morning! I know this post is rather late due to the fact that now is already the 'Next Year' but like they say there are 12 days to X'mas, so technically I'm still 'in' season!

I've officially fallen ill after gobbling down all the yummy food this fall. Moreover it doesn't help when my husband is a food enthusiast, he loves making small meals and experimenting with new dishes, this man makes my tum tum happy.
Don't say I never do anything hor, I clean up after him, do dirty dishes and burp loudly to applaud his cooking every time, without fail.

This X'mas is a quiet yet exciting one, is our first time playing host so We invited my family over and our good friend/s, a couple that happens to be our distant neighbours at Punggol to enjoy this not so quiet evening (because I was making hella lot of noise) afterall.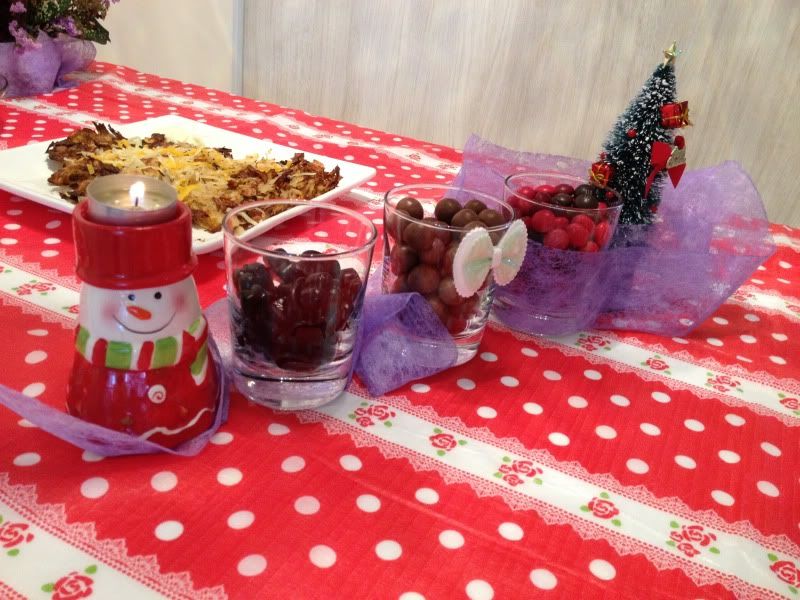 I rushed to the nearest Diaso to hunt for last min buys, managed to get a few items and a lot of nonsenses and started decorating my place when I got home.



See that 'Merry X'mas' writings on that glass divider (right)? I looked high and low for a whiteboard marker around my house and started sketching out the letters when I finally found a mini black and red one. To my disappointment these erasable markers were too powerless as the letters wasn't obvious enough, I then picked up my mighty permanent marker and started going over the weak impressions. Damn! I was so happy when the glass wall was filled with my amateur writings, So I gleefully wake my napping husband to show him my accomplishment.
You can imagine his horror when he realised I used a non-water soluble marker to write on my wall. He was sending out warning signs the whole time that I'll be dead if I can't erase the wordings at the end of the day. *panicky*
In the end I used my most powerful tool-- > Nail Polish Remover
and Viola!
Spick and span.


I decided since is a celebration we might as well do it the Christmas way, made it compulsory for everyone who came for the party to get a gift between $15-$20 bucks for exchange.


My mom and my brother happened to get 2 Identical sets of gifts from my friends, wah lau for my family but awesome for me, I forcefully asked my brother to pass me the duplicates so I can has one set at my hause. Swee~

Gift I got from my youngest bro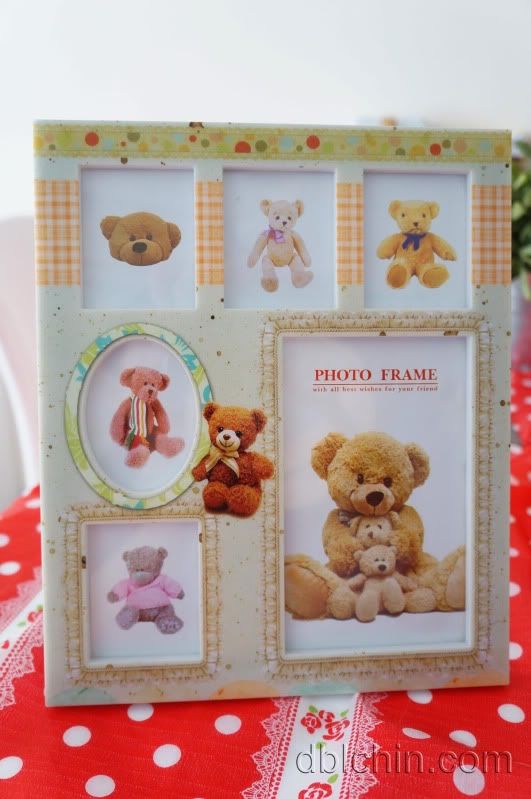 Everyone Was laughing at me when I opened up my youngest brother's gift because it looked like a gift with the least effort put in and also deep down I knew he left the buying task to my parents (even worse).
Photoframe & chocos, how nice.
But I'm not complaining, I didn't regret even 1 sec hosting this X'mas party.

However, I got the last laughed when my Husband opened his, it was from my father.
My dad actually bought a wait for it...... wait for it.......jewellery box for XCHANGE?! Laugh die me!
Actually my dad already hinted me a few days before the X'change that he hope I will like my gift, I suppose he really dunno the rules to this game, anyone can get hold of his gift!
In the end I got more than I asked for, my hands are full with my bro, mom, youngest bro and my husb's gift! Hahah *Evuril laughter*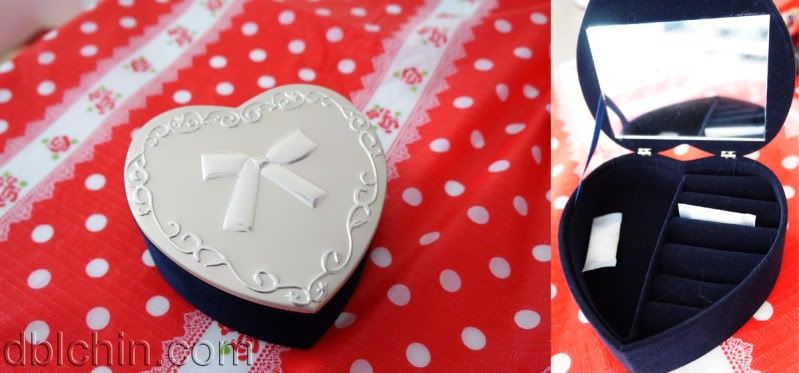 Additional gifts from our/my friends,
Vaseline lotion pack.
Excellent timing! I'm running out of lotion.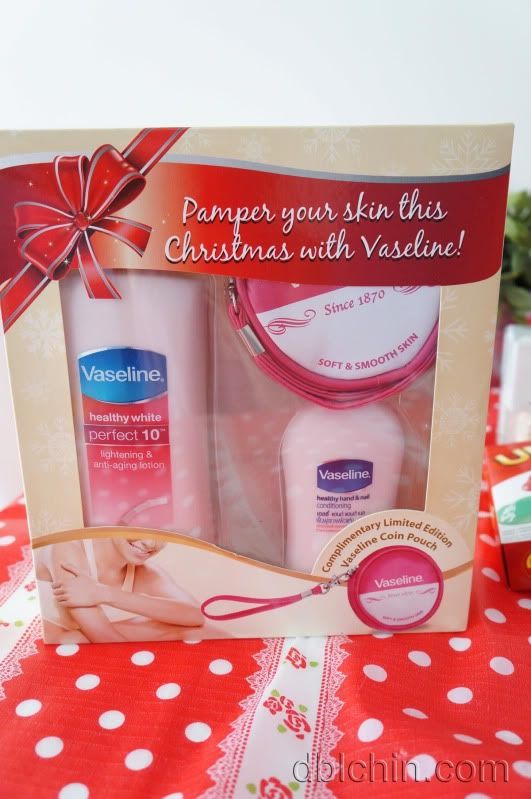 Thanks Tam and Jian Ping

Shatter by OPI ( Nail pic at the end of the post)


Thanks Rebek

Calth Kidson coin pouch and Mirror


Thanks Daph!

TWG Miraculous Mandarin Tea


Thanks Siew Wei!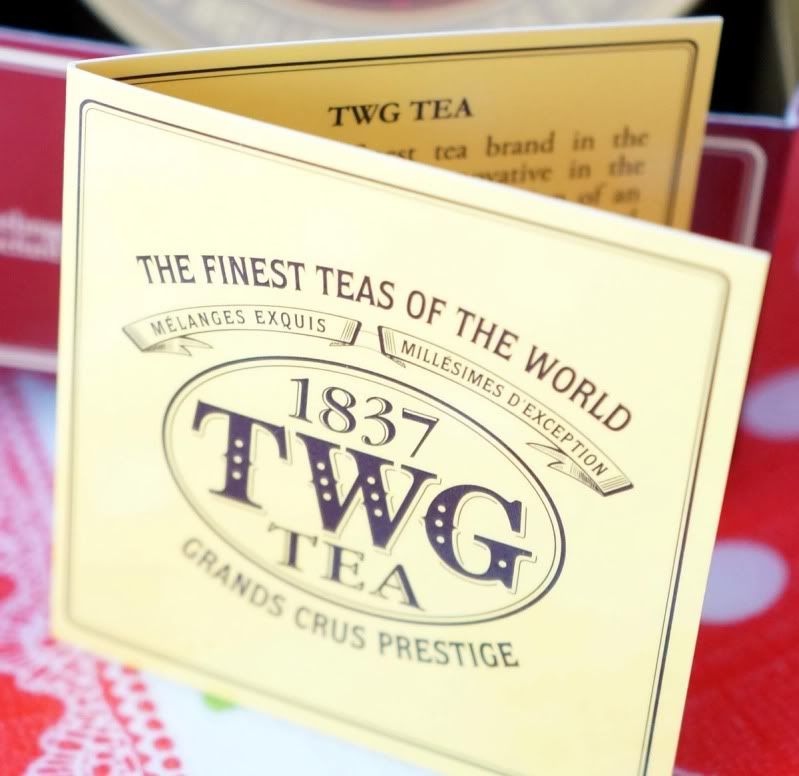 I got another big package from Watsons, everything was stored in this gigantic sock.
I used it as one of the decor for my Christmas party, something that brings up the the holiday mood.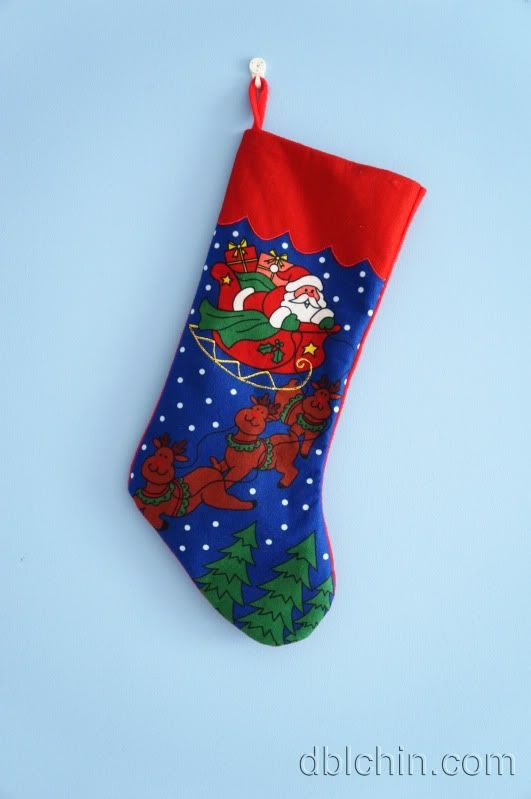 Angry Birds Dust Plug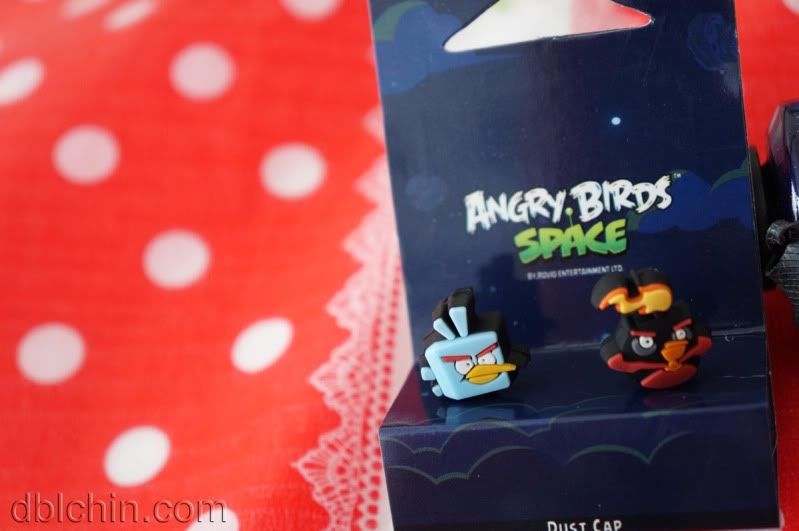 Actually Tammy and Jian Ping gave me a pair of these dust plugs too but of a different design, so I swopped one of them and give the other set to my friend!
Giving and sharing, this is what Christmas is all about!

Masks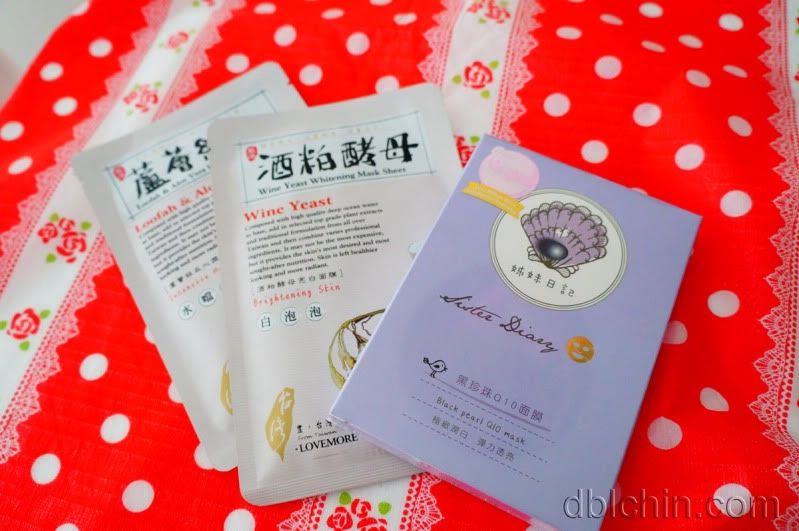 I have plenty but is never enough, my face needs water, thank you!

Angry Bird Space Multi-USB Port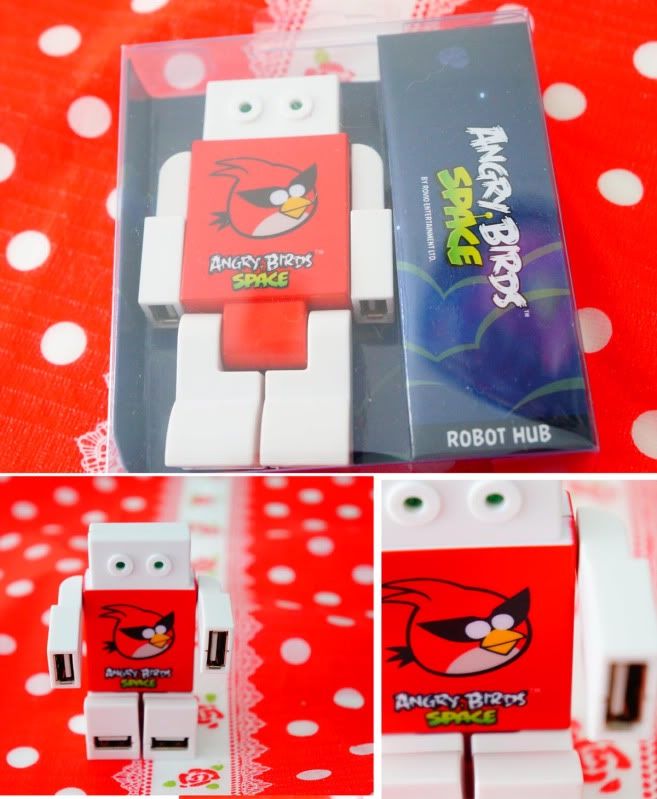 Models Own
(from top-Coral Pink LS008 lipstick, Pink Wink LG102 Lip Gloss & Hedonist HK05 Nail polish)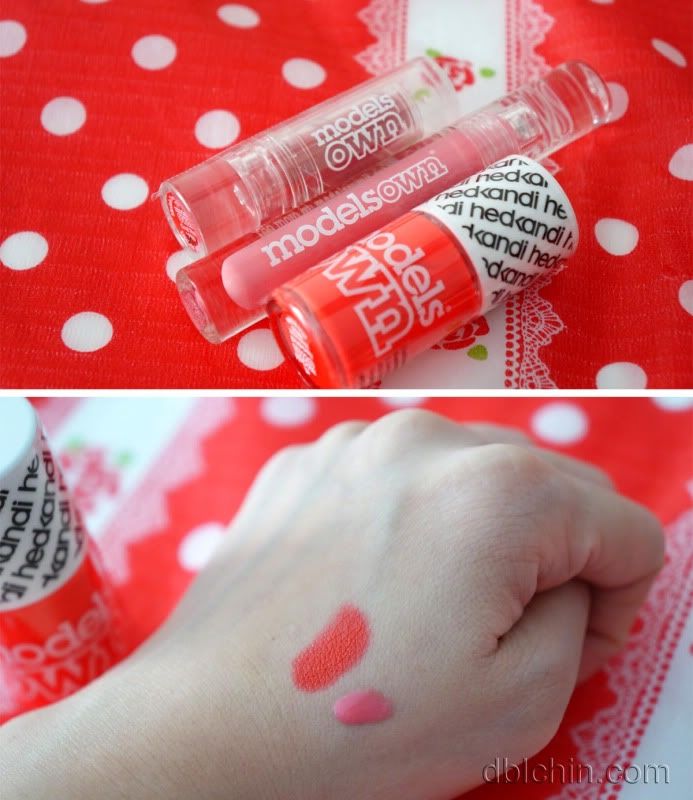 With OPI Navy Shatte NLE63 (given by Rebek)



Models Own Smokey Eye Kit Sassy TR006
It comes with 2 mini angled brush of the same size. I'm not sure if there's a glitch in mine because it'll be a little weird if you have 2 of the same brushes in a set.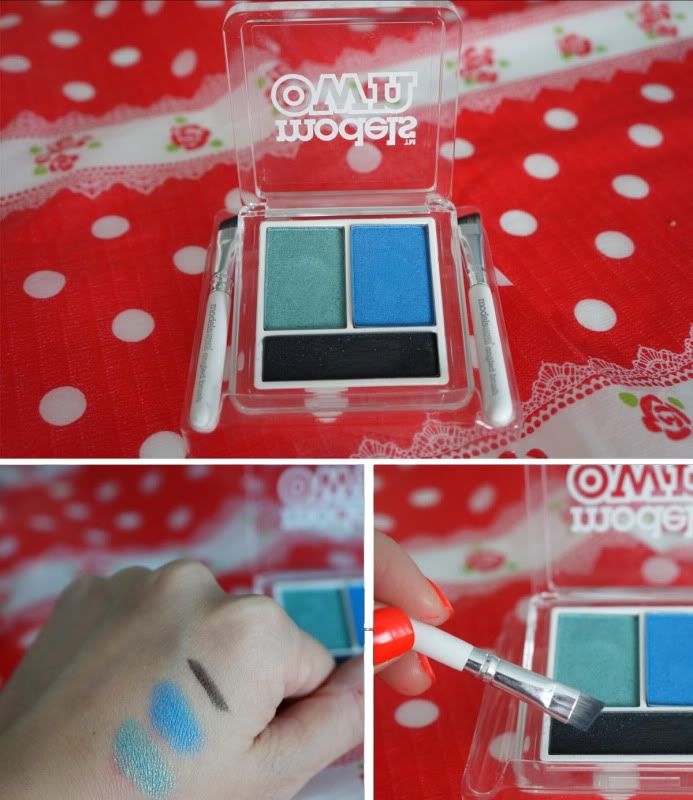 Colours are very pigmented but the black is losing out a little. I'm not sure if is the brush that is not picking up the colour that well, shall try that out with a denser brush.

A collection of Watsons Vouchers. More falsies eh? :P



And thank you all for the X'mas cards!


I've put them up on my fridge!


Merry X'mas Dblchinis!

?Dblchin
Please Thumbs up for my page :D
Posted by: MsXeRoZ Nicole
October 22nd, 2012 >> Posts
Ohai Good Morning everybody!
Don't panic here, my best friend is not cheating. Well if she's cheating then probably its with me, JK lol haha..*so lesbo* I was on my way to work and as usual tuned in to

Malaysia's Red.fm (FM104.9 klang valley).

Well, the topic of discussion today was
"Your best friend has cheated (two-timing) on his girlfriend/boyfriend. So, would you tell his gf/bf that he/she is cheating?"
Would you?
Well this topic's scenario actually bring me back to my university years when one of my best friend did that to her boyfriend. At that time, she not only cheated on her boyfriend, but her gang of best friends too. It was also the incident that cracked our relationship and we were no longer best friend. So let me tell you the story here.
She was a angel, loved and adored by numerous guys but she loved the one who loved her. This guy would die for her. And as her friend, I truly happy that she abandon her wild ways to love this guy. After few years into the relationship, one famous flirt came into the picture and she was infatuated with his words and action and she dwelt deeper and deeper with this second guy. It was so obvious from her speech, body languages and she even set specific ringtone for this guy, that it is impossible for others not to find out about it, yet alone her boyfriend.
The funny part of this whole story is, her boyfriend's friends lay their loyalty towards her, and not him. None of his friend told him (as far as I know) and this poor boyfriend was left in the dark. It was also at this point some other friends told me that the girl ordered people to hide the truth from me (she must have think I'm blind or stupid) because I will interfere and tell her boyfriend.
The whole scenario I saw and was keeping mum on it. I never questioned her nor confront her. She must have known what she did was wrong that she didn't have the courage to face me, her best friend and had to lie to me whenever she wants to go out dating with the 2nd boyfriend. I was exasperated but I have a rule that I have been sticking to "If he ask me, I would tell the truth. If he didn't then so be it". And it was one stormy night that her bf called, asking her whereabouts that i told him she went out. He was furious, because I think he warned her to stop seeing that guy. I didn't even know who she went out with, and where did she go, so I didn't tell him anything.
And he came, we looked for her around our rented house. Until she came back and said she was talking on the phone with another guy friend all the while so her phone couldn't get through. After that I don't know what happened as the whole scenario made us distant. For I guess I'm the only one who oppose her with this flirt, and for being the one disgusted with my other friends for being loyal to a person that i felt not worthy of. But deep in my heart, i was jumping with joy when the boyfriend managed to reconcile with her and she stopped seeing the flirt.
Years has passed, and I no longer bear the disgust anymore. What's left to me is a question - Was I really that good friend after all?
I wasn't.
Why, you ask? I think that if I am really that good friend of hers, I would have confronted her and asked her what had happened. I didn't. When I heard that she banned others from telling me the truth, I would act as a moral police and reprimand her, I was so angry and hurt that part of me wished she got caught and dumped by her boyfriend (at that one moment only). So, I didn't confronted her and let my own judgment get in the way.
Well let bygones be bygones. And if the same thing were to happen again to any of my best friends I will do the same "As long as your boyfriend didn't come to ask me about your flings, I will not tell. Plus, I will not lie on your whereabouts and who you are with, if i know of it".
What about you? Will you tell or not? Let's share opinions!
Deepest Love,
MsXeROZ,
Blogged from my Phone
Posted by: MsXeRoZ Nicole
October 2nd, 2012 >> Posts
I have been wanting to talk about this issue but had never been able to figure out what actually I feel about it. Somehow as I grew older, and ahem, wiser, my vision has also been wider. If it were in those days, every news of breaking up I heard, I would ask "why?" but now, "why?" "what?" "how?" and "when" are questions I try to resisst from asking, as I find it really insensitive.
Breaking up, in general is a milder version of divorce.Milder, because you don't have an official paper that is written black and white. And both the couple didn't took an oath to truly love, care, and nurture each other their whole life. It is in a sense that a couple decided that they cannot go on to be together, hence decided to part ways. Parting can be "let us still be friends mode" or

"from henceforth I declare you my mortal enemy

". But of course it is not as easy as it sounds. Breaking up means parting from the person you love, or once loved. And being together for a period of time, you had never been alone. So, breaking up moment is so very crucial in gaining back your individual self and throughout the process there's this factor called "miss" and/or "regret" which makes things cloudier.
I have fell in love twice, broke up twice and reconciled once. And i find it a very tedious process in a relationship. When I see people surrounding me that supposed to be married, instead, broke up. I couldn't help myself but gasp aloud. But what even shock me further when situation arise as follows:-
A) the breakup victim isolate himself/herself, cannot move on, with suicidal thoughts or action; or
B) "hi everyone, meet my new gf/bf called Honey"
Both situation cause me to be awkward! In the first scenario, yes, suicidal and depression is a norm after breakup. But, don't ever let this negative thoughts conquer you. Do you think your death will ever make any difference? Do you think she/he will come back to you after you died? Do you think she will die for you to join you in the underworld?
Think again.
On another hand, as in scenario B, just as the news of break up just reached your ears and you saw him/her holding another girl/guy. What will be your reaction? What would you do? Approach the new couple or act like you didn't see? It happened to me and I totally failed in acting, I wanted to act sporting, and display those expression of "new gf only mah", instead I nod my head like so many times and my eye opened so wide as though in terror. You see, please forgive my rudeness haha. Personally, I kind of felt that it is disrespectful for either partner if any one of them moved on too fast, say like a couple of weeks time. For me, it takes time to fall in love, and it takes even more time to fall out of love.
Does it take forever to forget someone you once loved?
Or does it only takes a couple of weeks?
I guess both you and I have no answer for this question. All is left in the hands of Master Fate.
What is your take on breakups and moving on?
Deepest Love,
MsXeROZ,
Blogged from my Phone